In the world of traveling, when applying for a visa, you might be wondering whether you should buy a dummy air ticket or an actual flight ticket for your visa application. Flight Plus Hotel Ticket is mandatory to strengthen your visa application. However, many people are still confused about whether to go for an actual flight ticket or a dummy flight plus hotel reservations. So, let us clear all your confusions in this blog.
What's a Dummy Air Ticket?
A dummy air ticket, also known as a dummy flight reservation, is a document specifically crafted for visa applications. Moreover, it's not a real flight ticket, but it can be converted if necessary. This document is all about to include your personal details like your full name, proposed flight route, entry and departure dates, and airline name.
When getting a dummy air ticket for your visa application, ensure that it's verifiable. It means the visa officer can verify it by entering a unique alphanumeric code on the airline's website. A verified dummy reservation will display all your information, including your name, travel dates, and flight details. If the website doesn't show you this information and gives an error, it means you've been scammed with an unverifiable dummy reservation, and your application would be rejected.
Wondering How to Choose? Actual Flight Ticket or Dummy Flight Plus Hotel Reservation?
When it comes to choosing visa applications, it's a smart move to go for a dummy air ticket. Why? Because a dummy flight reservation costs a fraction of what an actual flight ticket does. The price can vary from $10 to $30, depending on factors like urgency and proposed routes.
And on other hand, an actual flight ticket can set you back as much as $1000. If your visa application gets rejected for any reason, you'll lose a significant amount of your hard-earned money spent on that actual air ticket.
Round Trip vs. One-Way Dummy Air Tickets
For short-stay visas, it's recommended to attach a roundtrip dummy flight ticket. It can significantly boost your chances of getting your visa approved. However, for long-stay visas, go for a one-way dummy flight ticket. This is because you might not be sure about your return date to your home country.
Getting a Verifiable Flight Itinerary and Hotel Reservation
Are you puzzled about how to obtain a valid flight itinerary and hotel reservation? If you're a wanderlust enthusiast seeking breathtaking natural wonders or closing business deals worldwide, you've likely encountered terms like flight itinerary for a visa or flight reservation while preparing your visa documents. Therefore, getting a flight plus hotel reservation is essential for you.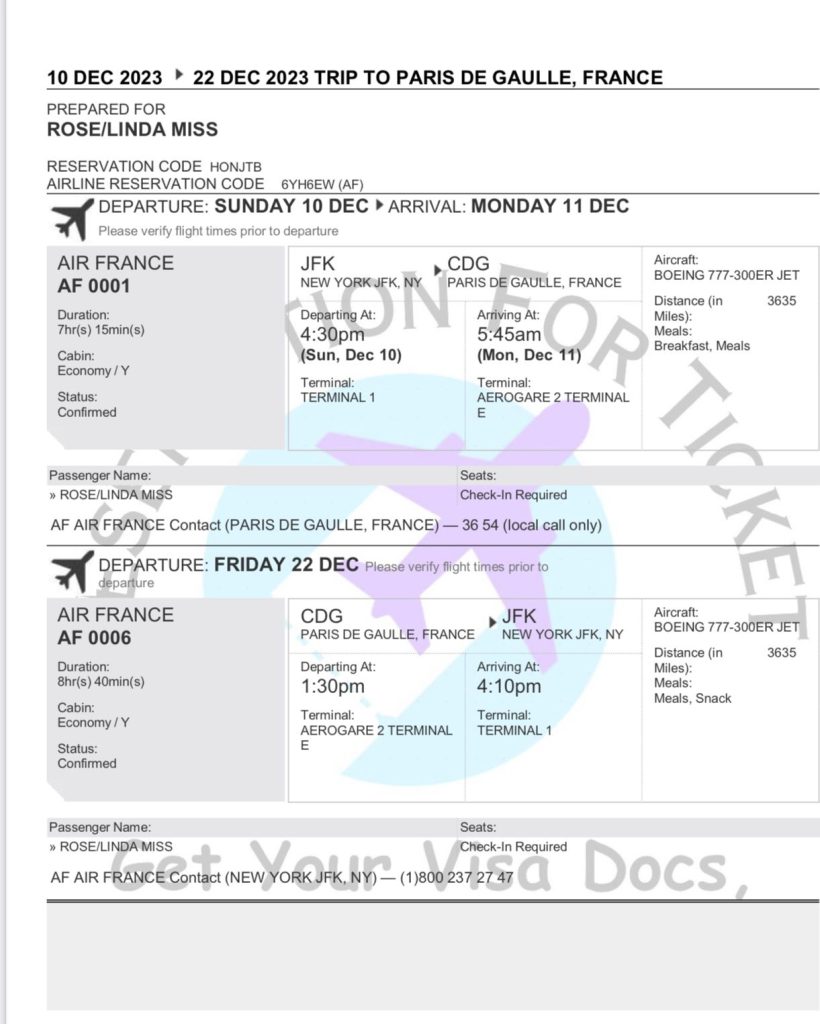 Flight Itinerary Explained
A verifiable flight itinerary serves as a schedule of your planned flights to and from your destination. It shows that you've either booked or paid for specific seats on these flights for a certain number of days. The ticket document contains essential details like your full name, arrival and departure dates, and alphanumeric codes for reference.
Remember, a verifiable flight itinerary isn't the same as an actual flight ticket and costs a lot less.
Hotel Booking or Proof of Accommodation
A confirmed hotel reservation or proof of accommodation proves that you've arranged a place to stay in your host country before applying for a visa. It might be called a dummy hotel booking or dummy hotel reservation, but it's completely legitimate and accepted by embassies worldwide.
The added advantage of using a confirmed hotel booking is that you can modify or cancel it after your visa is approved.
How to Obtain These Reservations?
Instead of purchasing actual flight tickets and hotel bookings (which can be risky if your visa gets denied), consider getting verifiable flight itineraries and confirmed hotel bookings from reliable online sources.
One reputable Option Is Reservation For Ticket
Reservation For Ticket is a registered travel company, ensuring trustworthiness.
Our website is encrypted, safeguarding your financial information.
They offer 24/7 customer support.
Prices are reasonable and affordable.
Positive testimonials from satisfied travelers vouch for their service quality.
The Process with Reservation For Ticket
Fill out the flight itinerary and hotel bookings form.
Provide relevant details like the city you'll stay in and check-in/check-out dates.
You can even choose an urgent option if needed.
Make the payment and receive the document in PDF format via email.
Verifying Flight Plus Hotel Bookings
If you want to know furthermore then it's a simple and easy process. Visit the airline's website mentioned in your itinerary and enter the unique alphanumeric code, and the website will display your flight details. ReserationForTicket. offers genuine documents that are accepted by embassies and consulates worldwide.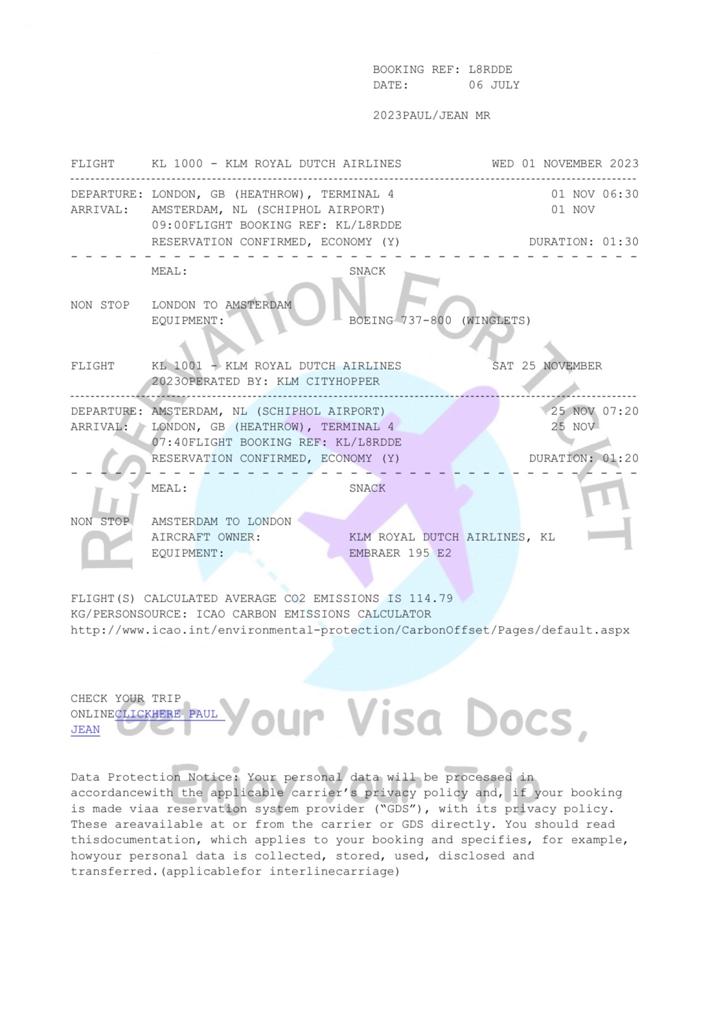 Conclusion
Choosing a dummy flight plus hotel ticket over an actual flight ticket for your visa application is a wise decision due to its cost-effectiveness. Similarly, obtaining verifiable flight itineraries and confirmed hotel bookings from trustworthy sources like reservationforticket.com save you both money and potential visa application risks. Contact us today and get a huge discount on tickets, an affordable rate, 24/7 customer service and many more authentic services to make your visa application enjoyable. Happy travels and best of luck with your visa application!
Read Also: Hotel Booking For Visa: Everything For You To Secure Visa